Simple Steps to Help Avoid a Home Fire in Point Pleasant
8/3/2022 (Permalink)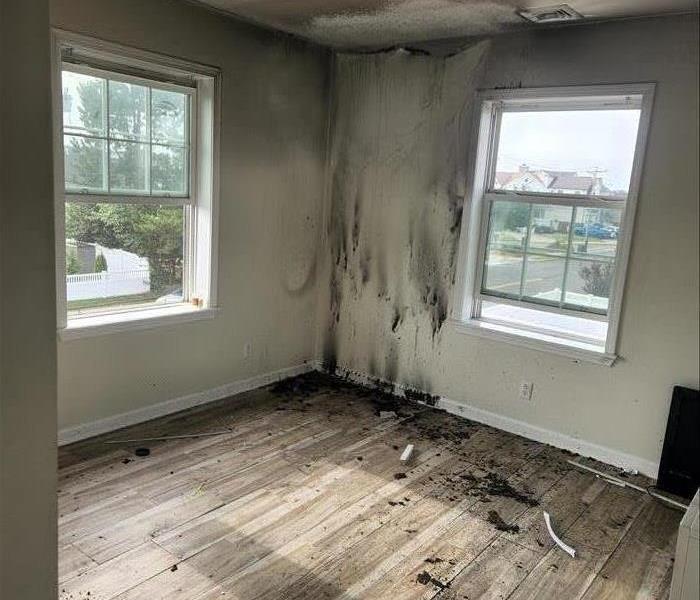 After a fire, you will need the assistance of a reputable fire restoration company to handle your fire damage cleanup.
Preparing for a fire in your Point Pleasant home is easier than the fire restoration process. Follow these simple steps to help avoid a fire in your home:
Install the right number of smoke alarms in your residence. Test them once a month and replace the batteries at least once a year. Not sure how many and where to install smoke detectors? The American Red Cross has a video to show you and The National Fire Alarm Code provides the latest safety provisions to meet our society's changing fire detection, signaling, and emergency communications demands.
Teach children what smoke alarms sound like and what to do when they hear one.
Ensure that all household members know two ways to escape from every room of your home and know the family meeting spot outside of your home.
Establish a family emergency communications plan and ensure that all household members know who to contact if they cannot find one another.
Practice escaping from your home at least twice a year. Press the smoke alarm test button or yell "Fire" to alert everyone that they must get out.
Make sure everyone knows how to call 9-1-1.
Teach household members to STOP, DROP and ROLL if their clothes catch on fire.
Fire extinguishers should be easily accessible to adults trained to use them, and kept away from children's curious hands. Install extinguishers high on the wall, near an exit, and away from heat sources. If you try to use a fire extinguisher on a fire and the fire does not immediately die down, drop the extinguisher and get out.
The following safety measures might seem simple, but an astonishing number of house fires are started because these precautions haven't been taken:
Heaters should be at least three feet away from curtains, bedding and clothing.
Matches and lighters should always be stored out of the reach of children.
Candles should not be positioned near curtains or other flammable items or used while sleeping even if the power is shut off or is temporarily out of service.
Food cooking on the stove top should not be left unattended. If you are multi-tasking while cooking and are working in another area of the home, set an alarm to remind you to check!
Don't overload power points with appliances.
Fires can cause extensive damage and the clean-up process tends to labor intensive, it is advisable to call in fire, smoke and soot professionals at SERVPRO of Point Pleasant.