How Is Commercial Restoration Different than Residential?
4/10/2023 (Permalink)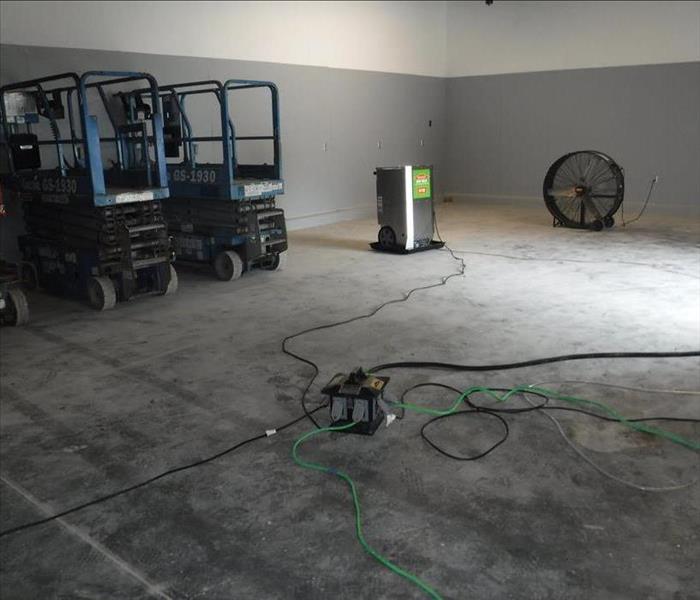 SERVPRO of Point Pleasant helps commercial customers with a wide variety of cleaning, reconstruction and restoration projects of all sizes.
Commercial buildings include apartment complexes, industrial spaces, hotels, retail spaces and office spaces. These have rooms designed for a specific function.
Residential is any property that has between one and four residential units. This can include a single-family home, a townhome, a condo, a mobile home, or a multiplex building.
The main difference between the two is the size of the building and how it is being used. Commercial properties are generally larger than residential properties.
Plumbing
Commercial properties usually have more pipes due to the increased number of bathrooms, kitchens etc. While residential homes have standard plumbing. Just like a residential home, a broken pipe can equally destroy a commercial property.
Business Spaces & Appliances
A commercial business might involve networks of computer systems, document storage, complicated desk setups etc. When restoring these rooms this needs to be done with an extreme amount of caution.
HVAC systems
The HVAC and sprinkler systems in commercial properties are on a very larger scale and can cause a significant amount of damage. HVAC systems can fail, it is important to get them regularly maintained and checked for old hardware or a leak. By doing so, it will help decrease the chances of issues caused by your HVAC system.
You can count on SERVPRO of Point Pleasant for all your commercial restoration needs to:
Respond immediately
Formulate the right solution
Keep you operational if possible
Document the process
Get the work done fast
Get the work done right
The right equipment and trained professionals are needed to address these specific types of issues. Every day your business is closed or only partially operational, you could be losing money. Whether you are dealing with a water damage, fire damage, storm damage, or you have mold or a biohazard contamination SERVPRO of Point Pleasant is here to help. We are available 24 hours a day, 7 days a week. Call us today at 732-202-3001 for all of your restoration needs!