September is Campus Fire Prevention Safety
9/1/2022 (Permalink)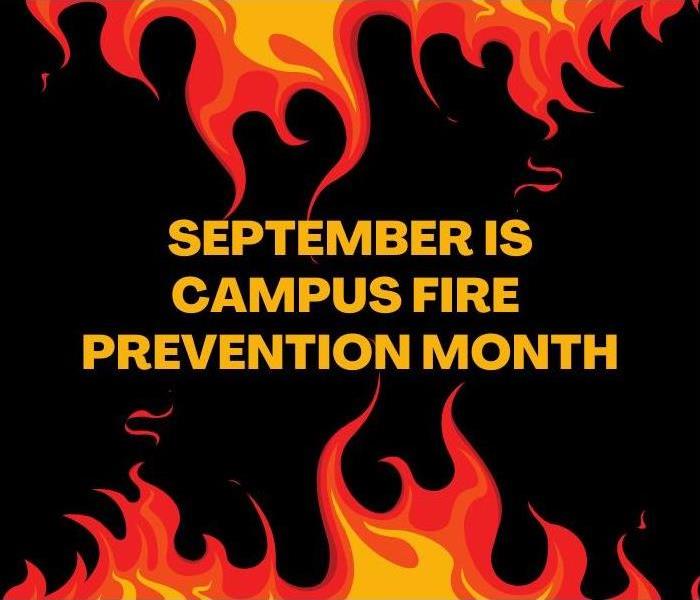 September is Campus Fire Safety Month! Spend some time this month by focusing on creating a fire-safe environment either on or off campus.
As September approaches, students are heading to college, so now is the perfect time to review best practices and learn how to put these practices into action for both students living on or off campus. Whether you are a student or parent, taking a few minutes to evaluate the new housing could go a long way toward preventing potential fire-related injury or deaths.
Click here to down the Campus Fire Safety Checklist for Students or click here for the Campus Fire Safety Tips for Parents.
When you first move in to your new housing, analyze your surroundings. Take time to educate yourself and your roommates about fire safety can make all the difference in a life-or-death situation. Taking small steps in identifying two ways out of a room, ensuring smoke and carbon monoxide detectors are properly installed and working can go a long way toward preventing potential fire-related injury or deaths.
Listed below are some simple things to evaluate for fire safety measures for campus-related housing:
Keep combustible items away from heat sources.
Smoking, candles, and other open flame items should never be used in student housing.
Fire sprinklers control a fire and provide lifesaving time for escape.
Know and practice the building's evacuation plan, as well as alternate routes. Create and practice a fire escape plan, if living off campus.
Ensure smoke alarms are installed in all sleeping areas, test smoke alarms monthly in an apartment or a house.
Never remove or disable smoke alarms.
Keep common areas and hallways free of possessions and debris, and never block exit routes.
What are some common causes of fires for college students?
There are several common causes for fires in dorms and off campus housing, including cooking, candles and overloaded power strips.
Follow these simple tips from the U.S. Fire Administration to avoid fires in campus housing:
Cooking
Cook only where it is allowed.
Keep your cooking area clean and free of anything that can burn.
Keep an eye on what you are cooking, especially if you are cooking at high temperatures.
If a fire starts in a microwave, keep the door closed and unplug the unit.
Electrical safety
Keep lamps, light fixtures, and light bulbs away from anything that can burn.
Never use an extension cord with large appliances, like a refrigerator.
Do not overload outlets.
Use only surge protectors or power strips that have internal overload protection.
We know how exciting it is to make the transition from home to college and we want you to stay safe, so we hope you share this information with friends in dorms and off campus. Don't forget to check with your school's individual fire safety plans.
As a certified fire restoration company in New Jersey, https://www.SERVPROpointpleasant.com/ pledges our commitment to serving local colleges and the surrounding communities. We're proud to provide the best emergency fire restoration services in Ocean, Monmouth, Middlesex, Mercer, Atlantic and Burlington Counties.