Pipe Burst While on Vacation?
2/3/2023 (Permalink)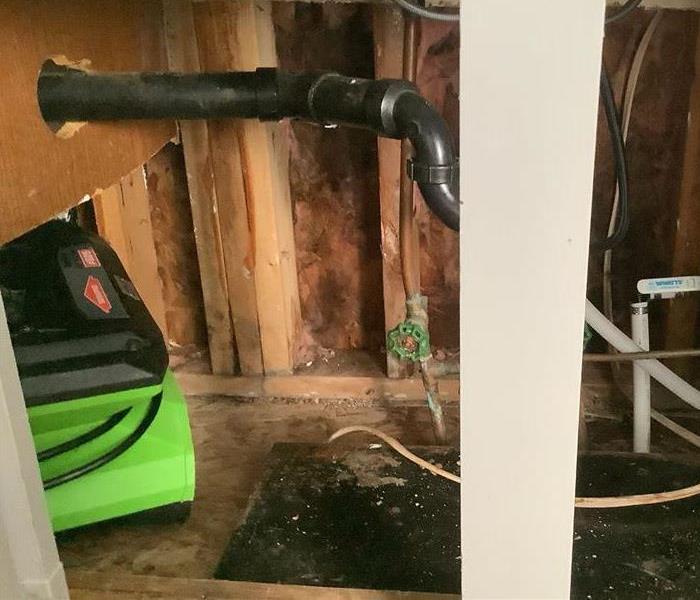 SERVPRO can determine the scope of your water damage, inspect and test to determine the extent of damage and how far the moisture traveled.
If you are planning to travel away from your Lacey home, it is of the utmost importance to occasionally check your vacant property. By having a trusted friend or family member stop by even a couple times a week to make sure everything is as you left it, is strongly recommended. In a winter cold spell, water pipes may develop ice and form a blockage. If left untreated, this can lead to increased pressure, causing the pipe to burst. A burst water pipe in your home can cause more than $5,000 in damage, so it's important to act quickly.
A family in our community had a pipe burst while travelling during the holidays when the temperature changed drastically (which is usually the cause). Thankfully, they had a family who was checking the home catch this before the water damage spread. They called SERVPRO of Lacey, Manchester and we were able to get there to begin the water damage restoration process. If the water was left sitting for too long untreated moisture can result in bacteria, mold and mildew growth or worsening structural damage.
Even if you'll only be away from your home for a few days, consider having someone check up on your living space. Especially if it's during extreme weather condition. As always, SERVPRO of Lacey is here to help with any emergency service regarding water damage. Contact us at 732-408-3161, we are available 24/7.